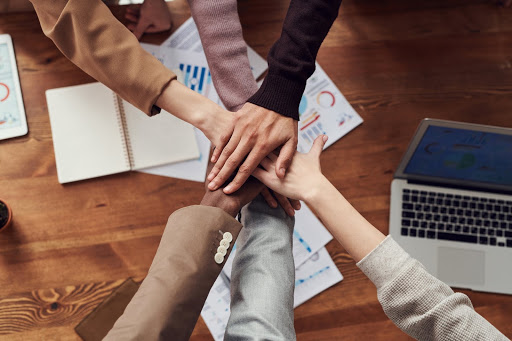 "We are nuttin' without each other!"
by Beth Price Morrison, Prevention Specialist
Cascade County, North Central Montana Region
If you left peanut butter and jelly sandwiches behind in your childhood, it just might be time to try one again. In these uncertain times, it's good to have something as simple as a PB&J. In that moment, the world becomes okay. 
Up here in the North Central Montana Region of our state, our team of prevention specialists are the PB&J of Prevention. We were birthed by Peg Shea…fostered by Barbara Bessette…and now are in the process of being adopted by Jenny Fuller as our TA. PB&J!
One of our best features is our collaboration. We share our ideas, resources and strategies with one another. Recently, we came together on a Thumbs UP! outreach campaign, alcohol awareness high school graduation letters and Parenting Montana lunch bags. When one prevention specialist has an idea (the bread), someone else has the creative talent for design (the peanut butter) and another has the eye for detail to make it shine (the jelly).
All told, there are seven counties and three reservations in the North Central Region—Blaine, Cascade, Glacier, Hill, Liberty, Pondera & Teton Counties and Blackfeet, Fort Belknap & Rocky Boy Reservations. We are a diverse group of prevention specialists. Sue and Amanda cover Blaine and Hill Counties, but also work closely with Misha & Lindsey at Rocky Boy. Bernie represents the Blackfeet up in Glacier County. Mary in Toole County, Katherine in Pondera County and myself in Cascade County all work for Alliance for Youth. We pitch in whenever possible. Mary is currently doing double duty covering both Toole and Glacier Counties, due to a vacancy in Glacier. Sue & Amanda stepped up and permanently took on Blaine County when that county lost their prevention specialist earlier this year.
At our quarterly meeting in March, we met via Zoom. Jenny did a great job facilitating this rather lengthy meeting, which is not an easy task online. Barbara joined us, as she continues to keep us connected through her new position as the Tribal TA for the state. Nicole Hackley joined us for some training on the new WITS and Grand Management sheet, which is getting rave reviews in our region. We also got a look at the new budgeting form, which Jenny took the time to go over and clarify somethings for all of us.
A lot of the time during our quarterly meeting was spent checking in with one another…personally and professionally. We are aware that we are all currently living a future history class and that things will likely get worse before they get better. But, we also know that we are nuttin' without each other.