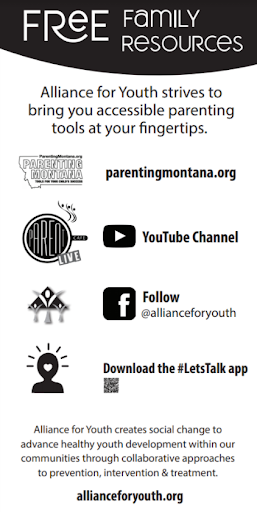 OUR WORK BEGINS WHEN WE STEP UP TO THE PLATE
By Beth Price Morrison, Cascade County Prevention Specialist
Since 2019, the Cascade County Substance Abuse Prevention Alliance (SAPA) has partnered with the Great Falls Voyagers baseball team to share important messaging with our community about alcohol use and abuse.
In 2021, we are excited to be promoting ParentingMontana.org! 
The Voyagers are very good to us. They set us up with a huge concourse stadium sign that is right inside the entrance to the stadium. It's over 8-feet tall by 4-feet wide and fans walk right by it on their way to the concession stands or restrooms. The Voyagers also include our ad in all their local media coverage and in the official Voyagers Program. 
We are also the Voyager's official popcorn bag sponsor. If you attend a game, you will see loads of fans walking around with popcorn bags with our messaging on them. 
In addition to baseball games, the Voyagers also host a variety of alternate family-friendly events, like movie nights and kickball throughout the season. 
This is the first year that we are using Block Grant funds for this partnership. In years prior, we had alcohol awareness messaging on the sign and popcorn bags, as the funds were coming from a different grant that focused on alcohol. 
You might be wondering how much this costs SAPA? We pay $1500 a year to the Voyagers for everything except the popcorn bags. We purchase the popcorn bags in bulk, as they are also shared with high school concession stands throughout Cascade County and the University Providence. We also used the bags for sack lunches in the community during the worst of COVID. The bags cost around .42₵ each for bulk orders (4000+). SAPA is fortunate to have Alliance for Youth as its fiscal agent, as AFY has other funds and grants which cover substance abuse prevention. 
One final perk that the Voyagers extend to us is being the Nonprofit of the Night for one game during the season. We get to promote our organization and coalition that night, receive the proceeds from the 50/50 and are able to sell game tickets in advance and keep half the profit. Some of this does compensate for the expense we incur. However, we see it as an opportunity to bring awareness to important issues and the work we do in our community. 
If you have any questions, please don't hesitate to contact me at [email protected] or 406.952.0468.