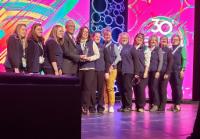 Montana DPHHS Receives National Award at CADCA
Montana's prevention program was taken to the next level in 2019 by getting connected and trained to maximize the effectiveness of their prevention efforts across the state. Through available funds from the Strategic Opioid Response grant, Montana kicked off the beginning of the year by having 19 prevention leaders attend the 2019 Forum. Training and education continued in April with a CADCA Bootcamp with over 40 prevention specialists in attendance. The best complement to training and education is to be able to stay connected to the prevention community at large. To do this, Montana was able to purchase CADCA memberships for 64 Montana coalitions. These coalitions were further connected by creating a Montana Group in the CADCA Community – an exclusive forum for Montana members to communicate on a daily and weekly basis. Other initiatives include launching www.parentingmontana.org [parentingmontana.org], partnering with the CDC Data Driven Prevention Initiative to Reduce Overdose Deaths and utilizing the Strategic Opioid Response grants to bring together programs working across the continuum at the state and local level to address substance use and misuse in Montana.
The year culminated with the state hosting a state-wide prevention symposium, "The Brain Matters: Working for Tomorrow," with 165 participants from cross-sector programs. Montana's prevention community is now trained, educated and connected. They have tools and continue to grow and ensure the success of their prevention efforts for years to come. CADCA is honored to give Montana the Outstanding State Member award.