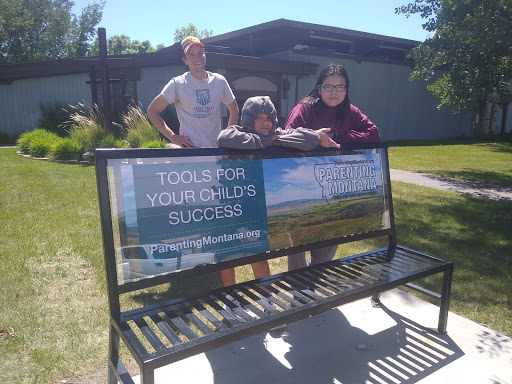 Come Sit A Spell
By: Beth Morrison, Cascade County Block Grant
After spotting a cool bench with changeable advertising in front of one of our grocery stores, I started to investigate what it would take to bring a similar bench to our community and use it for prevention messaging. I quickly learned that a bench like the one I saw would cost nearly $5,000. Yikes!
Leveraging my community contacts-which in this case was my husband-I reached out to a local metal fabricator to see if they could build a bench. They were very enthusiastic about the project. To date, Gerbers of Montana has made us two community benches for around $1,750 each. They even went so far as to donate the materials for the first one. The benches have plexiglass, so that the "advertising" can be changed out periodically. Currently, both benches have ParentingMontana.org "ads."
There were additional expenses for the signage, plexiglass and hardware, which amounted to around $350. We felt the benches were a great bargain at a total of around $2100 each. 
One bench is in front of the school in Belt, Montana and the other is by the bus stop in front of the Alliance for Youth—Youth Resource Center. The photos here show some of our youth from the YRC and the Community Outreach Coordinator from Youth Probation & Parole attaching the hardware to secure the signage.
Man, I love my job!