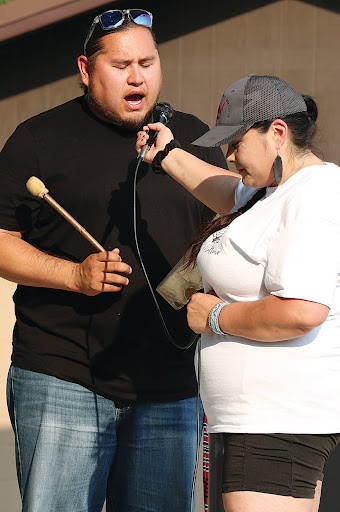 We the People – Connecting Communities and Culture
By: Melissa Giard, Glacier County PFS
The State of Montana administers the Partnership for Success grant, aimed at working within each community across the state to implement prevention strategies to reduce substance use among high-risk populations. Typically, prevention specialists work in one county. This event was the first of its kind as there were three of us working to serve all communities close to Cut Bank: Opportunities, Inc., Toole County Alliance For Youth (Mary Miller), and Honor Your Life (Laura No Runner) with the Blackfeet Reservation.
A couple months ago Laura, Mary and I were discussing ways to bring more of an impact to the area and how to provide families with more meaningful activities. We decided to partner together, along with Lea Wetzel from United Legacies and Missing & Murdered Indigenous Persons, to host a fun event for families. Of course we wanted families to have a great time at this event – but our goal was much more than that. There has been a lack of community involvement since the onset of COVID. We wanted all organizations to be back at the same table for families to easily access much-needed information, like ParentingMontana.org and other relevant community resources. In addition, we felt the need to help bridge the gap in the differences of populations in the areas and make all communities feel as one.
This event was largely funded through the Partnership for Success grant, Opportunities, Inc., and several donations from local businesses (Norman's Roark Pork, Cottage Keep, The Smile Shop, Billman's, Pizza Hut, Cut Bank Civic Center, Dabutchas Outdoors).
Opportunities, Inc. mission is partnering within each community will respectfully support and educate low-income individuals to achieve self-reliance. Community Action changes people's lives, embodies the spirit of hope, improves communities and makes America a better place to live. We care about the entire community and we are dedicated to helping people help themselves and each other. Our vision is nothing less than providing a supportive agency and program to build responsive communities where low-income individuals have the power and opportunity to create positive and lasting change for themselves. Opportunities, Inc. assists with: education services, energy assistance, emergency services, employment and training services, housing services, and community engagement.