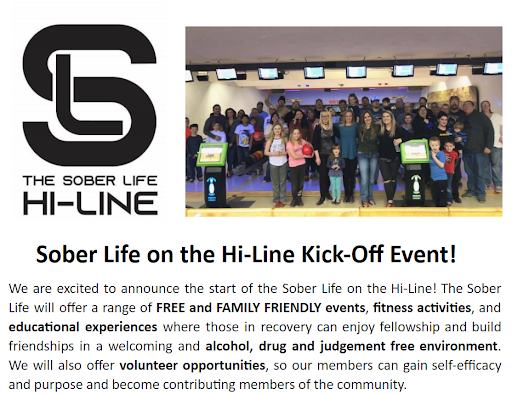 Sober Life Hi-Line Kickoff
Mary Miller, Toole County Prevention Specialists attended the Regional Meeting in Havre for the North Central District.  At that meeting, Thomas Rasburg, Alliance for Youth, Director of the Sober Life Group gave a presentation on his group out of Great Falls, Montana.
This lit a fire under Mary, who thought it would be a good thing, to go back to the community and Access the need for a group for Toole.  After the Assessment Phase of the SAPST Module, Mary determined that she had enough support and community buy-in, to see if she could move it to the Planning Stage.  It was very vital that she work through her court system both District and Justice to get buy -in from the District and Justice Judges who presides over Toole Counties Drug Court. Once she was able to get the Drug Court on board, she was able to bring in community partners to help sponsor the group.  She was able to secure support from the Toole County Sheriff's Office, Toole County Alliance for Youth, First Baptist Church, Toole County Health Department, and Marias Healthcare.
This group is by people in recovery, for people in recovery.  We are not an AA Group nor counseling session, but simply support one another to stay sober.  The group will offer a range a FREE and FAMILY FRIENDLY events, fitness activities, and educational experiences where those in recovery can enjoy fellowship and build friendships in a welcoming and alcohol, drug, and judgment free environment.  We offer volunteer opportunities, so our members, can gain self-efficacy and purpose and become contributing members of the community.
We are so excited to start this new chapter on the Hi-Line and look forward to building a community of folks who love recovery and want to live life to the fullest.  This program has three components and each one is done once per month.  They are Events/Activities; Fitness; and Volunteering. 
Shelby held their Kickoff Luncheon on October 15th, and the meat was donated by Happy Steer Ranch/KW Insurance.  Our Toole County DUI Task Force paid for a local catering business to complete the meal.  (TLC Catering), Shelby Hardware and Paint donated a door prize, and an Art Project was provided for each youth that attended.  We ended up with 25 people at our first Luncheon.  It was held at our local park to keep in Covid Guidelines for our County. The group was asked to Brainstorm for the three components, so that we know what would be enjoyable and what we could do to meet our three components, gearing it towards Toole County and the availability of our three components.
Our first Event/Activity will be held in November 2020 and we will be making Christmas Cards for our Military, under Fitness we will have a Wally Ball Tournament, and for Volunteering we will be delivering Food Baskets for Shut Ins through our Local Food Bank.  The group was introduced to Pax Tools which will be used as an Educational Parenting Program for our members.
I would like to thank Alliance for Youth, for stepping up to the plate and purchasing hats and T-Shirts that were customed made for our group, using one of our local businesses.  Thomas Rasburg and four of his members out of Great Falls, attended the meeting, gave an overview of the group and testimonies as to how this group helps them stay in recovery.  Mary came back in and lead the business portion of the meeting, recognizing the strengths of the group, so that each member can share their strengths with one another and use them for our activities.
From a personal point of view, I am truly humbled by the positive reaction from the group and community members.  Prevention does make a difference, and we are so fortunate to have the support of the State, our TA's and Alliance for Youth.