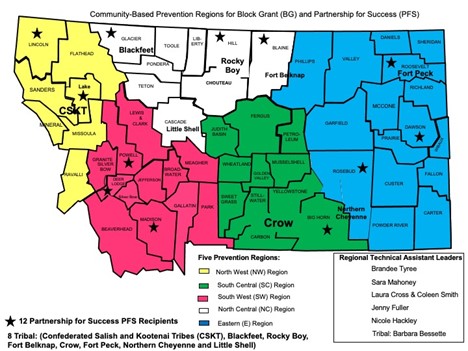 RTAL position information
Job Description
Title: Regional Technical Assistance Leader (RTAL)
Reports to: Executive Director
Job Overview: To provide expertise on program development tasks associated with the community-based substance abuse prevention specialists in the areas of planning, coordination and collaboration of identifying and prioritizing community-based needs, identifying available resources and gaps in services, as well as implementing effective strategies and evaluation plans to address community needs. Also included are activities such as planning and facilitating meetings, data collection, analysis, and writing. RTALs will provide technical assistance and training to the prevention specialists in all Block Grant- and PFS-funded counties and eight (8) tribal reservations in Montana. Travel will be required within the region, in-state for required trainings, and possible national conferences. It is estimated that approximately forty (40) percent of the labor hours will be training and the remaining sixty (60) percent will be provision of technical assistance to community prevention service providers and coalitions. RTALs will work from home and utilize technology to provide training and technical assistance as much as possible.
**This position is a temporary, grant-funded position that is currently funded through August 31, 2025, subject to federal funding levels.**
Summary: Youth Connections will be hiring one FTE Regional Technical Assistance Leader for the Eastern Region.
Responsibilities and Duties:
Ensure community prevention specialists are engaged, coordinating and collaborating with the public health Community Health Assessment and Community Health Improvement Plan to address substance use/misuse prevention needs.
Assist community prevention specialists with developing prevention plans/logic models and budgets, and identifying evidence-based programs and strategies that align with community needs.
Assist community prevention specialists to integrate community prevention efforts by using the Strategic Prevention Framework and Public Health Model; assist in building strong relationships with community partners.
Assist community prevention specialists or entry of data in WITS and required data to ensure complete and accurate information.
Assist community prevention specialists with completing media campaign notification and assist in compliance to the Social Media Policy requirements.
Assist community prevention specialists with fiscal monitoring and provide technical assistance (TA) on best-fit prevention activities to spend down funds.
Review and monitor monthly WITS data entries for compliance and accuracy.
Review monthly submissions of community prevention specialists training in WITS.
Provide information to community prevention specialists on available training opportunities.
Provide training and technical assistance to community prevention specialists and regional contractors.
Maximize and target training and technical assistance resources by coordinating efforts with other RTALs across multiple regions to educate and train the prevention workforce.
Increase prevention workforce competencies and improve access by prevention workers to the most relevant, responsive, and culturally appropriate prevention education and training resources.
Increase the use of evidence-based programs and strategies that lead to measurable outcomes.
Increase the reach of prevention training through the application and use of technology (on-line classes, self-paced courses and webinars).
Comply with organization policies and procedures including confidentiality, state administrative rules, federal policies as they relate to applicable programs, and employee code of ethics and values set forth by Youth Connections.
Attend and participate in all contract-required prevention training, conferences.
Other duties as required by contractor.
Qualifications:
A regional technical assistance leader will be required to:
Have a minimum of five (5) years of experience in community-based prevention. Preferred experience with SAPT Block Grant, Partnership for Success (PFS) grant or other Alcohol, and/or Other Drug (ATOD) prevention services.
Have a minimum of five (5) years with leading a community coalition.
Have a minimum of five (5) years of experience preferred providing training and technical assistance to community agencies and substance misuse/abuse prevention coalitions.
Preferred Associates' or Bachelor's degree in health science, community health, communication, public relations, human services, or a related field from an accredited college.
Must have six (6) hours of prevention ethics education or obtain on first available course offering.
Be proficient in WITS. Database training modules are required to be completed within the first 30 days of hire to show proficiency.
Preferred prevention competency as achieved by any of the following:

Experience in Strategic Prevention Framework or Public Health Model
Substance Abuse Prevention Skills (SAPST) training
Public Health Management Certification
Master's Degree in public health
Community Health Educator Certification
Skills/Knowledge:
Ability to work in a team.
Possess strong communication skills and knowledge of different learning styles.
Possess strong organizational skills and expertise in Microsoft Tools and web-based data reporting systems.
Submit reports and deliverables in a timely manner.
Highly self-motivated and able to work unsupervised.
Knowledge of alternate ways to provide training or information via written, oral or visual media.
Skill and ability to manage multiple projects through work plans, timelines, and logic models and ensure goals and objectives are met.
Ability to lead and coordinate efforts of a team of professional stakeholders, partners, co-workers, and contractors.
Ability to provide excellent written and verbal communication skills including public speaking.
Ability to use logic and reasoning to identify problems, strengths, and weaknesses of alternate solutions and implementation of those solutions.
Ability to research and develop training materials and program content and evaluate the effectiveness of program efforts.
Ability to operate a personal computer and general office equipment as necessary to complete the essential functions including using word processing, database and e-mail, internet and other computer programs.
Maintain all program records in a professional and timely manner and in accordance with programmatic and state requirements.
Within the first six (6) months of hire, the regional technical assistance leader will:
Participate in the IC&RC (International Certification and Reciprocity Consortium) prevention specialist certification upon state availability.
Physical and Environmental Demands: Work is performed in a typical office environment using a telephone and computer keyboard.  Moderate amount of travel is required (approximately 10% of the time). Hours sometimes exceed the normal eight hour day.
Salary: $52,000-54,080/year; DOE.
Benefits Plan: Health insurance ($734.58/month). Annual leave and holidays. Retirement after one year employment. Allowance for cell, internet, and required travel.
Primary location: Within or within close proximity of public health region serving.
Closing Date: Open until filled
Anticipated Start Date:  Immediately.
Required Application Materials: Job Application, resume, cover letter.
Contact information: Youth Connections, P O Box 4572, Helena, MT 59604. Coleen Smith, [email protected], 406-439-4369.
Youth Connections does not discriminate based on race, color, national origin, religion, sex (including pregnancy, gender identity, or sexual orientation), age, physical or mental disability, genetic information, marital status, creed, political affiliation, veteran status, military service, retaliation, or any other factor not related to the merit and qualifications of an employee or applicant.