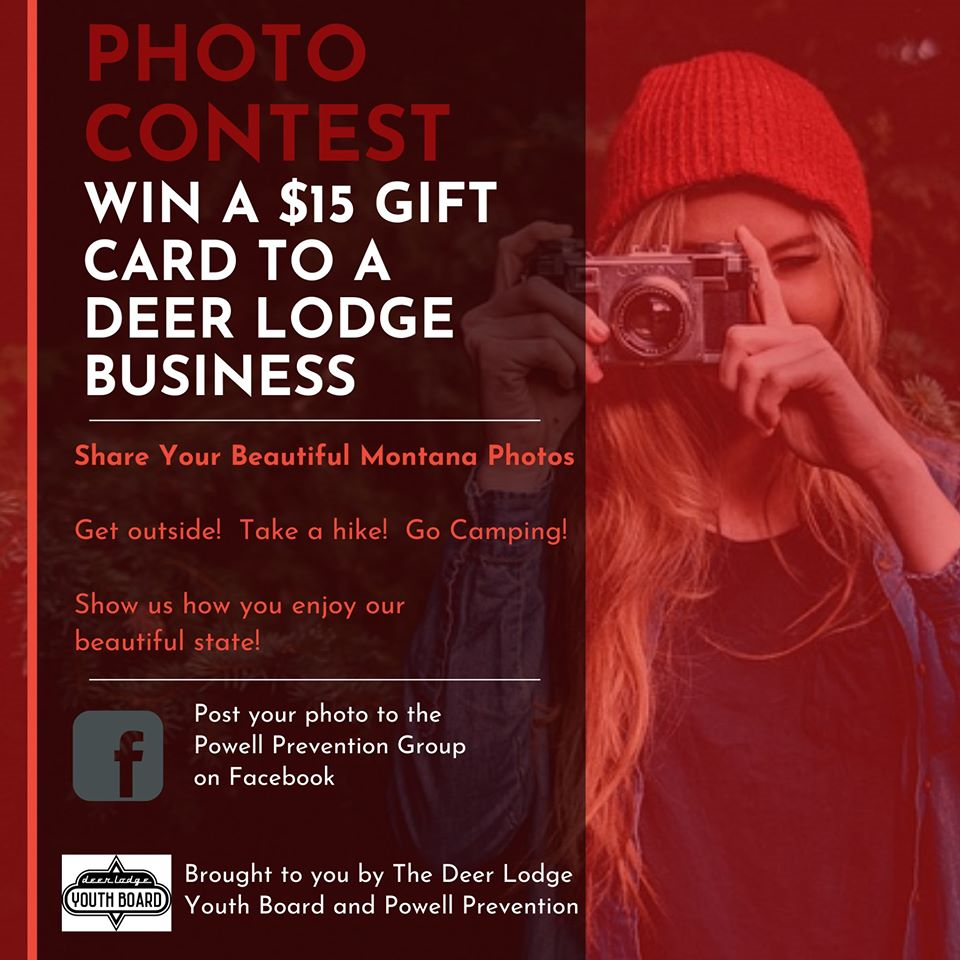 Powell County Sponsors Art Challenges on Social Media
By Kim Hilder and Amanda Bohrer
The Powell County Prevention team has been working hard on several art challenges, which we are running through our Powell Prevention Facebook page. We teamed up with the Deer Lodge Youth Board, who graciously donated $300 worth of gift cards to us, since they weren't able to hold their end of year junior high party, due to the COVID-19 Pandemic. With the $300 we stimulated our local economy by purchasing 20 $15 gift cards from 10 Deer Lodge businesses.  
We plan to have a total of 10 weeks' worth of challenges and giveaways.  Each week we are giving away two of the $15 gift cards. The winners are randomly chosen from all participants that have entered our challenges. The Powell Prevention team is using art supplies that were purchased for other activities that were cancelled due to the COVID-19 Pandemic.  Some of these art supplies are colored pencils, coloring book pages, scratch art pages and wood sticks, canvases and acrylic paints, and ink pens.  
Each week we open our office location to the public from 9-11am on Friday mornings.  We advertise that we will be in the office, so that residents can stop by to pick up that week's supplies. While at the office, they are also given Parenting Montana information with their art supplies. If residents would like to participate, but can't make it to our office, we deliver the art supplies to their homes and leave them on their fence posts. We are encouraging all family members to participate and enter their artwork, parents included. We are promoting healthy family friendly activities that the entire family can do together.  
Some of the challenges that we have done so far are: Monochromatic Acrylic art challenge, in this challenge each person received a blank canvas, one acrylic paint color and a paint brush.  They then had to create a painting only using one color and diluting the color with water to create their art. For our scratch art challenge, the participants could scratch any family friendly art into their scratch art paper, we had everything from scribbles from our younger participants to mountain scenes from the older participants. Another challenge that we held was the colored pencil challenge, where they were challenged to draw any family friendly springtime activity. We are also venturing out of just art, this week's challenge is a photo contest. Participants are challenged to take a picture of them enjoying our beautiful state, doing an outdoor activity with their family. We are also working on putting together a writing contest for a future week's challenge.
We created a Powell Prevention Group on Facebook, which is connected to our Facebook page. This allows all of our participants to upload their own pictures of their finished art, which eliminates the need for permission to use their photos. We then share some of the finished art pictures to our official page, to get more people excited about the challenges.  
We have used our local Deer Lodge Facebook classified pages to our advantage, to get our messages out to a wider variety of people. Through these little advertisements that we are posting, our local newspaper, The Silver State Post caught wind of what we were doing and they interviewed us about what and why we are doing these art challenges. This was a great, free advertisement, to get the word of prevention and alternative activities out to an even greater audience. A snippet of the article is currently on the homepage of their website, http://www.sspmt.com/.