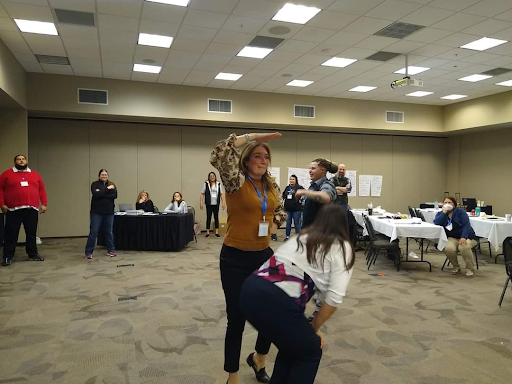 Native SAPST
The first week of May, more than 30 prevention professionals gathered in Billings to attend Native SAPST. Participants came from across Montana, Wyoming and South Dakota to acquire the basic knowledge and skills to plan for implementing effective, data-driven prevention programs, practices, and policies that reduce risk factors and improve wellness across the lifespan, with an emphasis on Native American populations. It has been six years since a Native SAPST course has been offered in Montana and this amazing, in-person opportunity was appreciated by all that were able to attend. 
Gary Neumann and Bobbie Arthur, both from Tribal Tech, were the course instructors. During the event Barbara Bessette completed her training to teach the Native SAPST curriculum, securing our commitment to this course for the future of Montana prevention efforts. 
Four days packed full of learning, collaboration, partnership and fun. Games were played and prizes were won, all while learning and connecting to the content. At the end of the week everyone felt like they had known each other for years. The connections built during this experience will continue to benefit Montana prevention for years to come. 
Thank you to the Mountain Plains PTTC for bringing Native SAPST to Montana. And thank you to Gary Neumann and Bobbie Arthur for coming to Montana to help increase the knowledge of prevention with Native populations and for Native populations.
Stay tuned for our continued Native SAPST training opportunities for Montana prevention professionals!