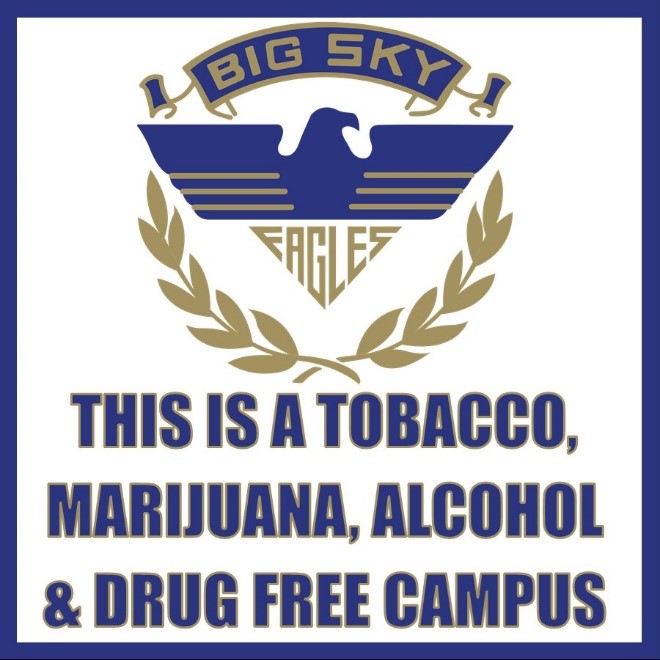 Missoula Policy Signs
Missoula County Prevention has recently been working with schools within the county to enhance awareness of ATOD free policies on school grounds. As part of this initiative, Jacqueline has partnered with the Missoula County Tobacco Education Specialist (Molly Blair), the MCPS School District's Health Services Coordinator, DeSmet School District's principal, Clinton School District's Superintendent and the Missoula Copy Center to make these policy compliance signs.
As many of these schools are open after-hours or on the weekend for sports or community events, raising awareness of the ATOD free policies was even more crucial. As a result, policy compliance signs were created for 10 middle schools and high schools within the county with the intent of reminding students and the surrounding adults of the community that youth are not meant to partake in substance use and substance use in not permitted on school grounds, even by adults. This is part of a two-year project in which Jacqueline will be partnering not only with the 18 schools from MCPS, but also with many of the more rural school districts within the county and several other community partners to fund the prevention initiative. Upon completion of this project in FFY24, the goal is to have all 39 public schools within Missoula County be promoting a solid, cohesive message against substance use.
All signs have been thoughtfully created, designed to have the greatest impact on their specific community. The schools' logos and colors are used on all the signs, intended to embrace the significance of positive school attachment, a known protective factor. These signs are distributed throughout the school grounds, with specific placements that focus on high-risk areas.