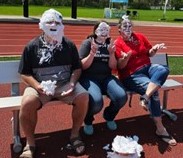 Mental Health Month Campaigns
Dawson County Prevention partnered with high school clubs to host a Mental Health Month Campaign. Each week, starting in April, a different high school club worked on a mental health campaign for the school.

Week 1: Family, Career and Community Leaders of America (FCCLA) created a positivity mural at one of the main stairways of the high school focusing on the importance of communications.

Week 2: Health Occupations Students of America (HOSA) created a check in box for students to leave comments about the schools mental health culture, suggest improvements, and ask questions. They also create positive affirmation murals on all the mirrors around the school to support their peers.

Week 3: Future Farmers of America (FFA) created a mental health facts campaign using posters and reading facts during school announcements.

Week 4: Key Club promoted their activity challenge as a part of their Campus Walk Out of Darkness Campaign. The activity challenge worked in conjunction with the American Foundation for Suicide Preventions Campus Walk Campaigns that encourages the public to support mental health through physical and recreational activity.

The month ended with the second annual Campus Out of Darkness Walk for Suicide Prevention. Prevention assisted Key Club students with designing, planning and hosting the campus walk for the community. During the walk they were able to celebrate over 1424 miles (20 minutes of activity=1 mile) worth of activity that the school and community achieved. They also raised funds for AFSP through a pie in the face fundraiser which resulted in the high school vice principal, community leader, and two high school teachers getting pied in the face by the students. The event included mental health facts shared during the walk, water fights, obstacle course, coloring, food, and more all planned by students with a focus in providing a safe recreational event to support and celebrate mental health. The overall event had an amazing amount of teamwork with the school clubs and support from the community. The kids cleaned up from the event already planning what they want to do next year. It looks like they are leaning towards Neon Night Walk Out of Darkness!