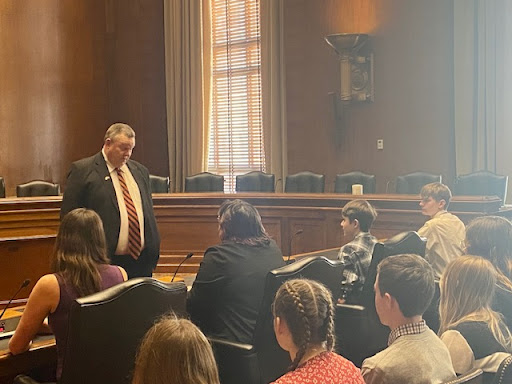 Frenchtown Youth on Regional Board
The Mountain Plains PTTC hosts an Advisory Board, comprised of several stakeholders from each state in the region. This board provides insight and feedback to help shape the training and technical assistance provided to states by the PTTC. They  reached out to Youth Connections inquiring about finding a youth from Montana to serve on the Board. YC then reached out to Frenchtown Community Coalition Coordinator Reagan Mecham. She had just the student in mind. Andrew (Andy) Hill, who has been part of the Frenchtown Youth Leadership Committee (YLC) since he was in eighth grade. Andy, who is now a junior at Frenchtown High School, has worked hard to educate his peers and the community about underage substance use and prevention.
For the last two years, Andy has attended CADCA's National Leadership Forum and was one of the student representatives for the Frenchtown Community Coalition (FCC) during Capitol Hill Day. He has talked to Senator Tester (pictured above), Senator Daines, Congressman Rosendale (last year), and Congressman Zinke (this year) about the work the YLC and FCC are doing to prevent underage substance use in Frenchtown. In addition, Andy serves as the current president of the Youth Leadership Committee. Andy is passionate and dedicated to the work of underage substance use prevention, and the FCC feels very lucky to have him!