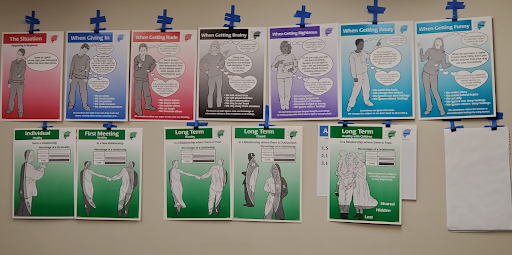 CREATING LASTING FAMILY CONNECTIONS
By Esther Lince, Madison County
As new Prevention Specialists to Madison County in spring of 2019, we decided in order to understand and serve our community effectively it would be necessary to conduct a needs assessment.  We surveyed and met with key stakeholders in the community and in the end it was clearly evident a Family Management program was needed and desired in Madison County.
"Creating Lasting Family Connections Program" (CFLC) was chosen.  CLFC is a comprehensive, evidence based program that reduces alcohol and other drug use among our youth by increasing family resiliency and community connections.  CLFC is a structured curriculum for youth ages 9-17 and their parents, guardians, and/or other family members.  Participants are taught social skills, refusal skills, and appropriate knowledge and healthy beliefs about alcohol and drugs, providing a strong defense against environmental risk factors that can lead to negative outcomes for youth. CLFC also provides parents and other caring adults with family management, family enhancement, and communications training.
All 3 Madison County Prevention Specialists and 4 other community volunteers received 2 extensive 1-week training sessions centering on three major areas: alcohol and drug attitudes, values and behaviors, and how to address expectations and consequences in relationships.  We are currently certified to facilitate all 6 modules. 
Adult modules
Raising Resilient Youth

– helps parents develop effective, healthy family relationships by learning strong parenting skills, practice communication and interaction skills, and to develop effective methods for expressing clear expectations and consequences with their children. 
Getting Real

–

a focus on maintaining healthy interpersonal relationships within the family through verbal and non-verbal communication and effective listening.

Developing Positive Parental Influences

– an in-depth look at the dynamics of chemical dependency, the effects on families, and effective prevention approaches.
 The youth modules 
Developing Independence and Responsibility

– participating youth examine their current level of personal responsibility in their family life, with an eye toward developing personal independence and responsibility for adulthood.  Youth are encouraged to recognize their potential and establish their sense of self-esteem.
Getting Real for youth-

this module involves a combined interaction with adults and youths as well as separately for each group.
Developing a Positive Response

–  is an alcohol and drug training for youth, examining their knowledge, attitudes and beliefs towards alcohol and drug issues. It focuses on their personal health, communication skills and relationships with their peers and family regarding alcohol and drug issues.  
In collaboration with Sheridan adult education we were able to present all 6 modules for both youth and adults with fidelity.  Modules were divided into 4 modules for first 7 weeks with a break over the holidays and returned in January for the final 2 modules.  
Each week we met for 3 hours which included one hour for a complimentary dinner provided by the facilitators.  We believed offering dinner before the classes would be an incentive for families to attend, but we soon realized it was also a time for conversations of their previous week experiences, their ideas, and shared camaraderie.
The attendance was small as we only had 3 families but we quickly learned the size of the group greatly affected the trust and commitment level.  We were able to offer a confidential, safe space for families to gain self-awareness, to recognize they were not alone and the realization other families experiencing similar challenges.  As the training continued the parents as well as the youth felt comfortable and began to bond and helped each other to learn and process new skills.  
The family dynamics that has come into the classroom has been overwhelming at times and has helped the facilitators gain a deeper appreciation for the program.  The participates have thanked us for being here and have recommended the CFLC program throughout the county.  We have received requests inside and outside the county, from other organizations who believe they would benefit from CLFC.  
In September 2019, Pastor John Tromness and Jerry Lince implemented CFLC into a weekly Adult Bible study opening closed doors in this small community.  Ennis Adult Education, scheduled a 1 day "Getting Real" workshop but due to Covid 19 has been put on hold.  
Our goal is to provide CFLC to every part of Madison County.  We have had Ennis, Twin Bridges and Harrison schools, the law enforcement, county commissioners and part of the faith based community show a sincere interest in the program.  The program will require an investment of time and energy on the part of parents and youth, facilitators and the community.  Through CFLC we can provide youth and 
adults a strong defense against drug and alcohol abuse. Instill in our youth smarter choices to build healthy, safe and successful lives free of substance abuse therefore improving the safety and health of the entire community.