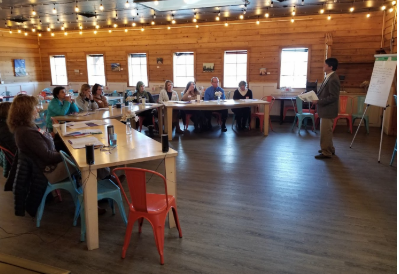 Communities That Care buy-in with Evidence Based Programs (EBP)
By: Edward Szczypinski, Gallatin County
Communities That Care (CTC) is a model for engaging the community from the very beginning in the prevention process by taking a systemic approach in guiding community mobilization,data-based community profile, developing a focused, long-range community action plan and building on existing resources and filling any gaps, then choosing evidence based tested and effective programs, policies and practices to fill identified needs.
From the very start CTC created a Core Team which identified and recruit Key Leaders
throughout the community; these Key leaders are those who control resources, impact policy, influence public opinion and that supports and oversees the CTC process and helps create the Community Board. Workgroups were created to develop a Community Assessment (data) report. A key goal of the Communities That Care effort is to identify which risk factors, protective factors and high risk behaviors are prevalent in our community, and to implement evidence-based programs that address the unique Gallatin County community's profile. To that end, the Risk and Protective Factor Assessment work group, also called the Data Group, collected and analyzed different data from a variety of sources within Gallatin County. Then, with input from community partners, this group identified priority risk factors to address, and community strengths.
With CTC there is an approval process that ensures input along the way from the Community Board members to the Key Leaders and then to the community at-large on decisions that are being made in the CTC process. Assessing community resources is key to getting buy-in from other service providers and organizations already implementing tested and effective programs and perform a gap analysis.
This data is gathered through surveys of other youth service organizations and agencies. Workgroup members prepare a presentation of the process, gaps found and recommendations for delivery at a Community Planning Workshop and finalize a Community Resource Assessment Report. The next steps is defining, clear, measurable desired outcomes; reviewing evidence-based programs (EBP); creating an action plan for putting EBP in place and developing an evaluation plan. This involves forming task forces for each identified EBP, identifying those that will implement the approaches and building on and sustaining relationships with other services providers that were previously surveyed.