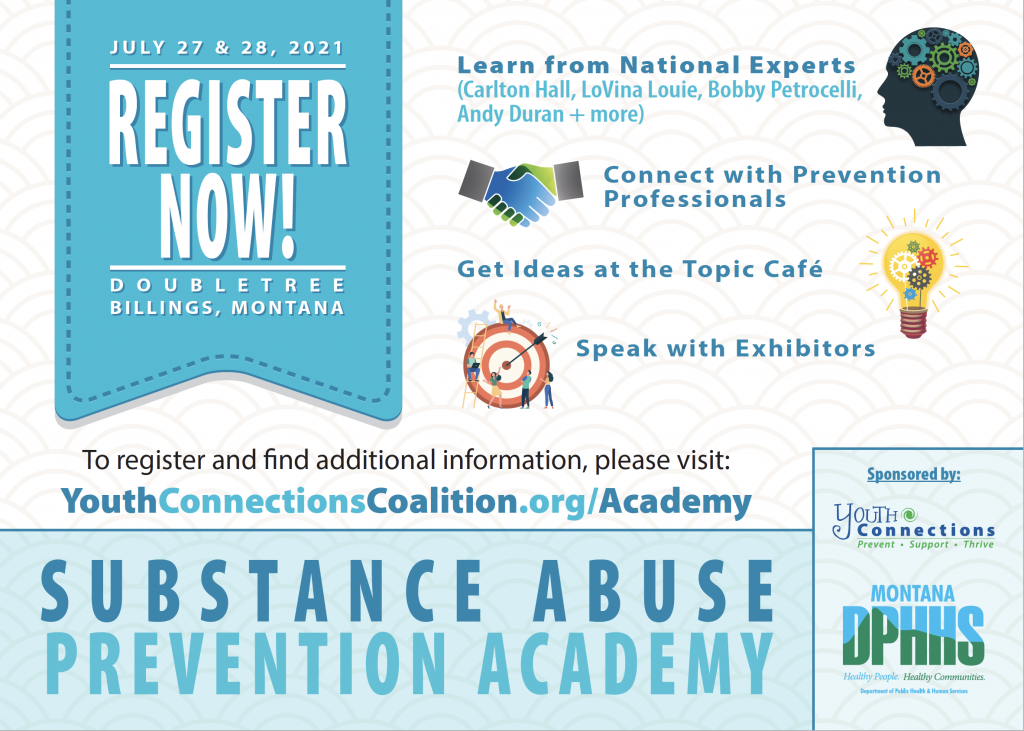 July 27 & 28, 2021 - Billings, Montana
Montana DPHHS-BHDD and Youth Connections are proud to bring this in-person event to Prevention Specialists and Partners in Billings, MT. With nationally recognized speakers, networking opportunities, Topic Cafes with area experts and our scientific community partners, attendees will obtain tools necessary for effective substance use prevention.
Speaker presentations and handouts will be available here after the session has ended. 
About
Mr. Hall is the President and CEO of Carlton Hall Consulting LLC, a multi-faceted, full-service consulting firm designed to provide customized solutions and enable measurable change for communities, organizations, families and individuals. With more than 25 years experience in the fields of government relations, social services and prevention science, Carlton gained national prominence as a Communities That Care® Project Manager, spent twelve years with the Community Anti-Drug Coalitions of America (CADCA) and is one of the primary architects of CADCA's National Coalition Academy.
About
Dr. Weiner is a board-certified Psychologist and addiction specialist, and speaks nationally on the topics of addiction, behavioral health, and the impact of drug policy on public health. 
About
Mr. Petrocelli is an engaging speaker, educator, coach and bestselling author. A drunk driver crashing through his home and killing his wife didn't stop him.
About
Mr. Dagel is first generation descendant of the Romsa family of the Blackfeet Tribe, has over 20 years of experience in the therapeutic world.
About
Mr. McGaughey has trained 1000s of people across the U.S. in membership organizations, building effective partnerships, and strategic planning.
About
Mr. Duran has been the chief executive of LEAD since May 2012. In the past 7 years, Andy has taken LEAD from a small community organization into a Nationally recognized prevention organization that offers programs and services all over the country.
About
Wade is a member of the long hair clan of the Tsalagi Nation. He is a descendent of Chief Red Bird Smith and the son of Lela Parrish McGee and Jerry McGee of Oklahoma. Wade is a two time graduate of Haskell Indian Nations University and also graduated from the University of Idaho with a BS degree in Organization Sciences with an emphasis in Leadership. Wade has been teaching tribal community healing for over 20 years with a focus on generational trauma, resiliency personally and culturally, self care and teaching youth the behavior associated with trauma, how to recognize it and how to change it. Wade is been a coach and trainer for over 30 years, a teacher, suicide prevention coordinator, vocational rehabilitation Director and held several other jobs within the tribe to help and assist the people in healing.
Wade has ran several programs and has traveled all over native country to run football camps, training camps, leadership conferences and camps, Trauma informed training. Wade includes the ancestors and culture in all programs, camps and trainings he provides. Wade has traveled native country for over 20 years with Native Wellness Institute, Warrior Society Development and his own non-profit Native Elite One. He is a motivational speaker with an understanding of the evolution BACK to who we once were as native people and how to recognize what is hindering us from accomplishing the monumental task of generational and current trauma.
About
Dr. Horn received her Doctorate in Psychology, with a teaching emphasis, from Walden University and has over a decade of progressive clinical experience working with the complex diagnoses that often accompany addictions and co-occurring disorders.
About
Travis is a Certified Prevention Specialist with the IC&RC and specializes in creating SUD Prevention Media. and Websites. He and his company also specialize in helping create Environmental Policies, Alcohol Event Toolkits, and Prevention Event Coordination.
About
Ms. Lybert is a nationally certified intervention professional and founder of Your Choice to Live, Inc.
About
Ms. Nowakowski is the Executive Director of Your Choice and has been in the prevention field since 2009.
About
Ms. Morrow is a prevention education specialist and has been in prevention since 2009 in a variety of roles.
Connect
Matt Hyzer & Kara Hughes
Learn more about what the CONNECT Referral System is, how it functions, and how to become a part of the statewide expansion.
Win-Win Partnerships
Pat McGaughey
Learn how to engage sectors and make it a win-win for all those involved.
Sticker Shock Campaign
Laura Cross/Barbara Bessette/Beth Morrison
Find out the secrets of implementing a successful sticker shock campaign and how to get retailers on board.
Community Health Assessment
Kerry Pride & Natasha Sailer – Stillwater Co.
How to get involved with your community CHA and make sure SUD/Prevention and DUI questions are included in it
Student Assistance Programs
Susan Trieble
Join Susan to find out how she implemented a Student Assistance Program in her school
Marijuana Facts
Andy Duran
Learn easy/quick rebuttals to the marijuana industry's most common talking points
Drivers Ed - Alcohol Presentatoins
Jenny Fuller and Law Enforcement Partner
Find out how to get alcohol presentations included in drivers ed progams
Town Hall
Carlton Hall
Learn the secrets to hosting an effective TownHall meeting
Parenting Classes
Nicole Hackley
Learn different ways to recruit participants and host successful classes-even in a rural town!
Media Campaigns
Travis Sylvestri
Discover what media avenues are included in a true media campaign and what others should be taken into consideration.
Alcohol Laws/Policies in Montana
Law Enforcement – TBA
Find out what alcohol laws and policies are already in place in Montana and how to work with law enforcement to educate and advocate for them
Partnering with Youth Probation
Toggle Content